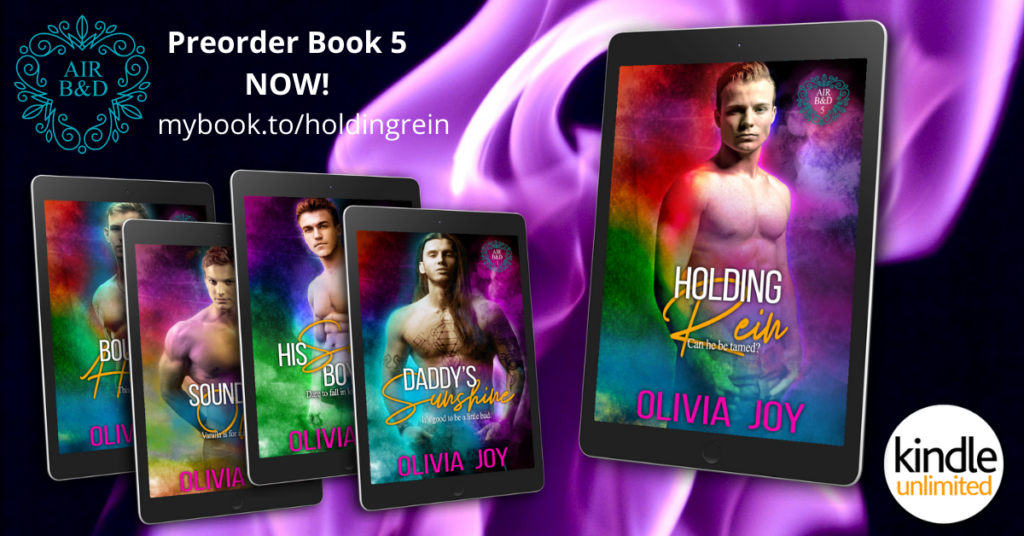 Bound to Happen, the fourth book in the AirB&D Series is now available for sale and to read with your Kindle Unlimited subscription. Holding Rein, book five in the series, is on preorder right now, and will release on June 26!
FIND OUT MORE BY CLICKING A BUTTON BELOW!
Holding Rein
Book 5: AirB&D Series
Rein Richards isn't holding out much hope that the matchmaker can come up with a match for him, and he's sure it's his own fault. He has a short attention span, a temper, and a lot of baggage. He knows who he is, he desperately needs a strong man to obey, to help calm his thoughts and get his mind in order, but he just can't seem to do anything right.
Grant Rugger has been on his own a long while because he hasn't found a lover—a boy—that truly needs his particular brand of 24/7 attention and love. He comes to the AirB&D wanting, not the perfectly behaved man, but the perfect boy for him. Rein proves to be an enormous challenge, but is beautiful and fascinating, and one thing he knows for sure—the boy's lack of a long-term arrangement is far from his own fault. Rein just hasn't found anyone that has both the firm hand that he needs and enough patience to wait him out.
It doesn't take Grant long to decide he wants to be the man that Rein needs him to be. But is three days enough to build that kind of trust?
Of course, the matchmaker thinks it is. And he's always right.